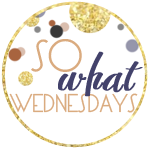 Hey my lovely readers. Linking up with Shannon from
Life After I "Dew"
for SO WHAT Wednesdays! If you don't follow her, you should! She just recently had a cute baby boy, and boy is he a cutie! Congrats Shannon. She has a new design going on and I am loving it! This week Erin is from Homemade Happenings is guest posting for Shannon.
Before i get started, i want to share some cuteness! IF YOU FOLLOW ME on IG then you always see my cute puppy often! This was this past Saturday!
SO WHAT IF.....
I have not posted yet this week until today, school exams, sleep and storm were more important.

i got up with storm early then we fell back asleep til almost 11:30, that girl wares me out.

online shopping is an addiction of mine. so convenient :)

if i got up today, showered, and got back into pjs, clean ones of course! :)

i am over the summer heat, ready for sweatshirt weather

i never truly trained for this 5K i have on Saturday, i am still proud I am gonna do it and with my best friend.

i have next week off school and i have things planned to do and i already know they may NOT get done, haha

i told you all a while ago i was getting my blog design re-done, don't worry it will be soon enough.

i spend lots of time on FB, IG, Twitter etc etc. I am a social media junky and i like to keep updated on my friends, family and blog friends life. & i love posting about my life so everyone knows. I think social networking is amazing.

my DVR is always full and about to be again :) fall means NEW shows and shows coming back on

i am mad at Jax on SOA for cheating on Tara... plus side i got to see his fine ass and only gets me more excited that he is going to play CHRISTIAN GREY!

i dont really have any girl friends my age i am becoming ok with that and love everyone who is in my life. Moving is never easy. Making and keeping friends isnt the same as in high school. We all grow up, grow apart, and move on with life. It happens! Its hard but I am becoming more and more ok with it.

I have been with Tevis almost three years and there's no engagement ring on my finger...YES I WANT IT. but when he is ready he will ask and i know he will! I wish people would stop asking.
My parents FINALLY came to visit! They went to Cancun for their 25th and we took them to the airport! :)
I will share a few photos from their trip :) I love my parents so much. They had the BEST TIME!