WOW. I haven't done one of these in a LONG TIME!
I am Linking up with Shannon from
Life After I "Dew"
for SO WHAT Wednesdays! If you don't follow her, you should!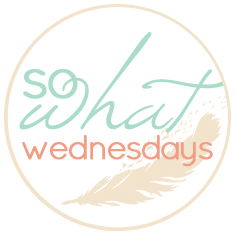 here is what i am saying SO WHAT to...
if i have my bedroom 75% painted, i'll do get it finished soon
if i take advantage of tevis being home and took a nap, Storm gets me up way too early.
if we have food in the house and should save money, i nicely asked the bf to take me to fazolis today.
if i spend hours online trying to find curtains, GR so frustrating, cant find what i want
if the only way i get to see my niece for a little while long is through face-time, thankful for technology!
if i have the color me rad in just a few short weeks and the most i have done is walk. Oh well , its more FUN then anything and I will be doing it with my best friend and having Delaney and Tevis at the finish line waiting on me! All that matters is I AM DOING IT
if i know we have company coming and i always wait til the last minute to clean
if my walls are still empty, I HAVE NO IDEA WHAT MY STYLE IS. :/
if i don't have A JOB... i am going to school to get a good job, LEAVE ME ALONE.
if i will wait to drive tevis' car because mine doesn't have AC, anyone knows me, I HATE BEING HOT.
I could go ON and ON and ON...i will stop there :) Enjoy your Wednesday!!
Please tune in to my blog tomorrow for a GIVEAWAY!!!!!!