I usually do different link up on Friday BUT decided to switch it up!
I am linking up with some amazing ladies for a fun 5 on Friday blog post!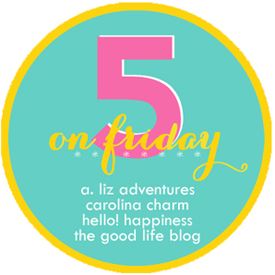 Today was a good day, Miss Delaney got a new BIKE! We had mrs. curls (a small amazing ice cream joint) before dinner LOL and then we breakfast for dinner, eggs, bacon, toast!
2. I got some awesome mail since we moved in, I LOVE MAIL! My best friend Erica got me my first ever Essie Nail Polish. She has started a new addiction!
3. I woke up yesterday to an e-mail from Instagram. They had an awesome new upgrade, we can now upload videos, like KEEK and VINE. I am not a huge fan of videos but hey it keeps things interesting.
4. We have been able to relax and enjoy our home. I cant say enough how happy i am the way things have turned out in the inside. Getting rid of the white walls made such a difference and made it feel more home-y. CHANGE IS A GOOD THING, and i do not regret it.
5. Tomorrow we are taking Delaney to the Marion County fair, her 4H projects are in the exhibit and going to be judged. I cannot wait to see her projects and have her show us everything she did this past year. I am so happy, excited and proud of her.
Happy Friday Everyone! I hope all my awesome readers have had a great week and even better weekend!