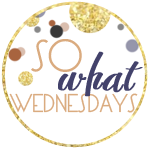 SO WHAT IF.....
* Its almost 6pm and i am just now posting. Gotta keep my readers happy
* I was up until 4am last night watching my DVR shows, haha i knew i would not have time today
* I was extremely relieved to have storm outta the house yesterday while she played at doggy daycare. It wore her out, she got to socialize with other dogs and i didn't have to stress about her getting into everything lol
* i have some pretty big news to tell everyone, yet you all have to WAIT!!!!
* I am sitting here with a sweatshirt on and my hood up, ITS COLD
* i complain in the summer because i hate to be hot, guess what? you will hear my complain about winter, because i hate being cold!
* i wish my homework would do itself, i would really appreciate that

* i think money grows on trees. LOL
* i am dreading making dinner, but need to save money and COOK.
* i have more blogger friends then real life friends, my blogger friends are amazing!!!!
I hope everyone is having a great HUMP day and a great week so far. I have been focusing on getting homework done and entertaining Delaney, we have her for the week.
Friendly Fall Swap packages should have been already sent out and maybe even to their partners already. use #friendlyfallswap2013 if you post on twitter or IG. We would love you to show off your items on your blog next week in a post. So get them ready, Monday will start the LINK UP.