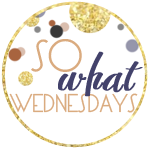 Hey my lovely readers. Linking up with Shannon from
Life After I "Dew"
for SO WHAT Wednesdays! If you don't follow her, you should!
this is what i am saying SO WHAT to....
if I spend most days in my yoga pants, they are amaze-balls :)

if my puppy jumps in the bathtub every-time i go to the bathroom, she likes water and have recently discovered she is big enough to jump in and out lol.

if i wake up early with storm, take her out, feed her and we go back to sleep on the couch until 11 sometimes. I am a night owl so i need extra sleep haha.

if i was still doing home at 8:30 this past sunday night, its so NOT like me to procrastinate but last week was hella busy...

if i should be focusing on buying and saving for Christmas but all i wanna do is buy for me lol

if my puppy is the smartest and biggest in her class. shes our big smart girl :)

if you are busy, if i text you text me back, NOT THAT HARD i know you read it.
if people from my past still get to me, i know its been basically three years but i hate that i am still being judged and people still hate me
if i am weak sometimes, it shows who i really am.
if i feel unhappy sometimes, I am a girl, i am always wanting MORE!
Well that's enough rambling .....
3 years today i made a risky decision and it ended up being the best decision ever. Everything happens for a reasn <3 I love him!